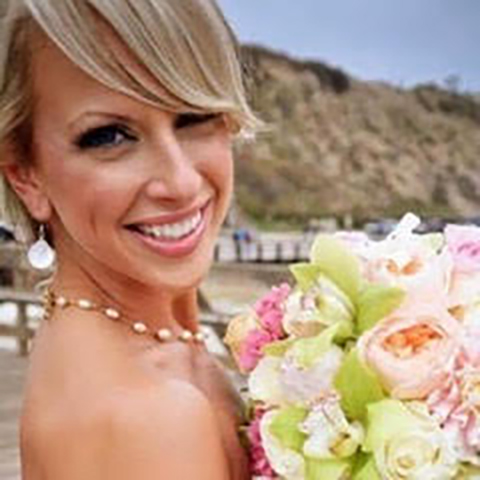 Welcome to Andrea's Way!
We are a nonprofit organization that offers pampering services and luxury care packages to cancer patients who are in palliative care. Inspired by the impact that this pampering had on one of our own, our mission is to provide that same warm feeling of comfort to others during their darkest hour.
Remembering Andrea: Our inspiration
Andrea was a beautiful mother, wife, daughter, sister, friend, cheerleader and, ironically enough, an oncology nurse. She lived her life selflessly – devoted to those that she loved. She was always up for an adventure, she was the queen of glam regardless of the activity, and she lit up every room she entered.
In February of 2015, Andrea received a shocking and devastating diagnosis of Stage 4 pancreatic cancer. It came just 5 months after the birth of her daughter Braylan.
From that day on, life would never be the same. She fought hard for her life, and she did so with the utmost grace, courage, and strength; all the while sporting her infectious smile throughout. Her determination and positive attitude until the very end were commendable and incredibly inspiring to all who had the pleasure of knowing her.
On November 8th 2016, Andrea earned her angel wings, "leaving" behind many loved ones including her parents, sisters Vanessa and Maria, husband Jeff and her three adoring children Evan (5), Dylan (4), and Braylan (2). To say that she left them behind is far from the truth, however, as Andrea continues to provide frequent and very bold signs that she is still very much here with them.
Andrea's life was a meaningful one that touched the lives of so many.
To carry on her legacy, and to honour the impact that she's had on others, Andrea's Way was founded.
Andrea's Way – Our Origin
All who knew Andrea knew her way of life was to always look her best. Pregnancy, working out, going to the grocery store, tending to her patients, recovering from surgery, undergoing chemotherapy: she always looked like a million bucks! According to Andrea, when you looked good, you felt good!
Towards the end of her life, Andrea spent several weeks in hospital before her doctors reported that, sadly, she would not be leaving. Andrea's sister and mother made a trip to Victoria's Secret to get her some new clothes. They stocked up on cozy pyjamas and slippers for her – not realizing at the time just how much of an impact this would have.
Andrea's face lit up once she saw her new hospital wardrobe. Her sister and mother helped her change into her new pyjamas and couldn't help but notice how much this simple gesture uplifted her mood and energy level.
By this point Andrea was very weak, as she hadn't been able to eat for many weeks. Her feet and legs were swollen, she was experiencing significant abdominal pain and nausea, and required frequent draining of the fluid in her abdomen.
In that moment, Andrea's mind was no longer focused on her pain and suffering.
That evening, with her new outfit on, she requested to go for a walk around the hospital floor – something she hadn't had the strength to do for quite some time. You would have thought that Andrea was walking the Victoria's Secret fashion show that night as she proudly walked in her new outfit. Her face was glowing as she said hello to all of her favourite nurses. Because she looked good, she felt good! So much so that she even did a second lap!
Her family didn't know it at the time, but sadly that was Andrea's last walk. She passed away peacefully 4 days later in her hospital bed wearing her new cozy pyjamas. Seeing how the smallest of gifts could radically uplift her spirits during the darkest of days is what inspired the creation of Andrea's Way. It was created based on Andrea's belief of "look good, feel better."

Our mission is to donate luxury care packages free of charge to cancer patients who are in palliative stages. We hope to provide that same feeling of a warm hug that Andrea felt in her new pyjamas.

Gift Baskets
These gift baskets are delivered directly to the patient, and include all sorts of amenities intended to bring them comfort – with a touch of luxury.
The value of each basket is approximately $250. What's inside:
Luxurious pyjamas
Slippers
Body lotion
Lip balm
Soothing neck pillow
A soft and cozy blanket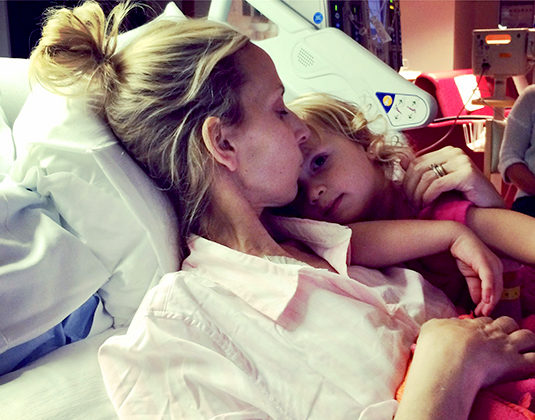 Spa Services
Available for visits both at home or at the hospital, our trusted spa therapists are sure to pamper!
The value of our spa services is approximately $100. What's included:
Manicure
Pedicure
Hand massage
Foot massage
Moisturizers and creams
Spa services are currently suspended due to COVID-19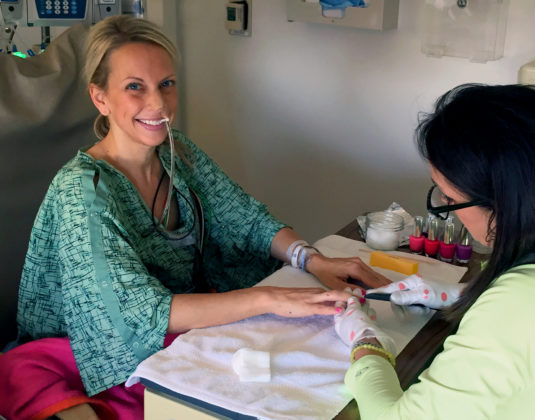 Bring joy to someone's life: Donate to support Andrea's Way
As we are a nonprofit organization, all donations go directly to providing services to patients in palliative care.
We accept donations via Paypal, which supports all major credit cards. Our spa services are valued at $100, and our gift baskets are valued at $250, but you can donate any amount to help partially fund either. You may even set up monthly recurring donations.

Fundraising Events
Live donation-based virtual yoga class – May 30th 2021, 11 am
Join us for a gentle, hour-long "heart opening" flow led by Andrea's sister and founder of Andrea's Way, Vanessa Papiernik. This special class will be offered via Zoom and is being held in honour of what would have been Andrea's 40th birthday this month. No prior yoga experience is necessary.
If you are interested in participating, a donation of $10 is suggested. Register via our online Paypal donation portal: simply choose the "Yoga fundraiser" option from the pull-down list at checkout.
A link to the Zoom call will be sent to the email address that you provide with your donation.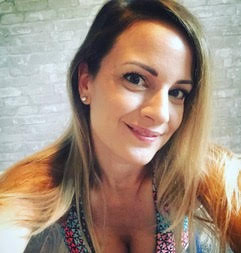 Contact Andrea's Way
We'd love to keep in touch! Please join our mailing list to stay up to date on fundraising events, news, and to see how your donations are impacting the lives of others.
Do you know someone who could benefit from our services? If so, please send us a message today! We would be happy to help.
You may also share our Paypal donation page with friends and family or directly to social media using the following links: